---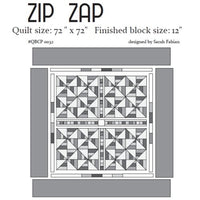 Material requirements, cutting and piecing instructions for this 72 inch by 72 inch quilt.

Material Requirements:


CUTIE Pack
1
Background
1 2/3 yards
Inner Border & Center Square
1/2 yard
*Outer Border
1 7/8 yards
(2 1/3 yards)
Binding
2/3 yard
Batting
80" X 80" piece
Backing 
80" X 80" piece
*If using striped or border print fabric (and mitering the corners),
the borders will need to be cut lengthwise, requiring extra yardage.  
Depending on the width of the striped border print, and if mitering, 2¹⁄? yards is required.